Winterize Your Honda near Smyrna, DE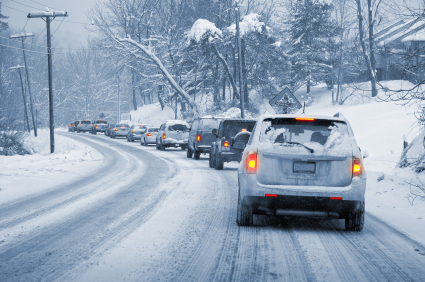 Service Hours
302-943-6001
| | |
| --- | --- |
| Monday | 7:00 am - 4:00 pm |
| Tuesday | 7:00 am - 4:00 pm |
| Wednesday | 10:00 am - 6:00 pm |
| Thursday | 7:00 am - 4:00 pm |
| Friday | 7:00 am - 4:00 pm |
| Saturday | 8:00 am - 2:00 pm |
| Sunday | Closed |
The mercury is dropping and soon we'll be in the middle of the fully-fledged winter season! This can be an exciting and hectic time, and whether you're driving more frequently for some holiday shopping or just going about your daily schedule, it's good to keep in mind your own safety. The snow might look lovely decorating plants and trees, but it becomes a little less friendly when its making the ground slippery and inhospitable. At Price Honda, we invite you to come to our dealership for maintenance procedures that will thoroughly prepare your vehicle for winter.
Winter Driving Tips
Your car is a hugely important component of your safety on the road, but it's imperative to remember that you are the one controlling your vehicle. Being a mindful driver can prevent a host of hazardous situations that might make the winter time a little less merry, so we'd like to give a few reminders that might help you out! Our most important piece of advice is simply to take more time driving once the temperatures drop. Expect your commute to work to be longer and leave earlier. That way you can relax and take your time even when traffic is slow. If you find yourself rushing, you're more likely to end up in a potentially unsafe situation. The second major piece of advice is to always be prepared. Keep your car packed with warm enough clothing to keep you comfortable if you end up stranded for a period of time. We'd also recommend to include a first aid kit and water along with these things.
How Do We Winterize Your Honda?
When you pull into Price Honda's service bay, you can expect to be greeted by one of our highly-skilled mechanics who will walk you through what we plan to do to your vehicle. Our primary intent is to inspect all of the hotspots that tend to take the most stress during the winter. This means we'll look at your tire treads and brake pads to ensure that you have the best stopping power in slick or icy conditions. We might even recommend snow tires if you're not in an AWD vehicle. We'll also look at your engine and battery, as well as your fluid levels. Have something more specific you want fixed up before it gets too cold? Just let us know, we'll be happy to help with whatever you might need.
Online Features
Before you rush over to our dealership, be sure that you peruse our website and use some of the handy features that could save you time and money. If you hate having to wait in line then you'll definitely want to schedule an appointment online to ensure that you're seen as quickly as possible upon arriving here. We would also encourage you to look at what specials we currently have. These are always changing, so keep your eyes peeled for one that might be just right for you.
Keep the winter fun and lighthearted by preparing for it ahead of time! We're open six days a week during a wide range of hours, so stop by Price Honda at your convenience to winterize your Honda near Smyrna, DE. We'll be happy to help make you safer during this upcoming season!
Testimonials
"Easy and super nice"
DEALERRATER
3-31-2020
YELP
3-24-2020
GOOGLE
3-15-2020
GOOGLE
3-15-2020
GOOGLE
3-11-2020
GOOGLE
3-5-2020
GOOGLE
3-3-2020
YELP
3-3-2020
GOOGLE
2-27-2020
GOOGLE
2-25-2020
GOOGLE
2-23-2020
GOOGLE
2-21-2020
GOOGLE
2-19-2020
GOOGLE
2-18-2020
GOOGLE
2-17-2020
YELP
2-16-2020
GOOGLE
2-15-2020
GOOGLE
2-13-2020
GOOGLE
2-13-2020
GOOGLE
2-12-2020
YELP
2-12-2020
GOOGLE
2-8-2020
GOOGLE
2-7-2020
GOOGLE
2-7-2020
GOOGLE
2-6-2020
GOOGLE
2-5-2020
YELP
2-3-2020
GOOGLE
2-2-2020
GOOGLE
2-1-2020
GOOGLE
1-29-2020
GOOGLE
1-26-2020
GOOGLE
1-26-2020
GOOGLE
1-25-2020
GOOGLE
2-7-2020
Read More