Spanish-Speaking Team at Price Honda near Smyrna, DE

In many parts of the United States, driving isn't a luxury. In areas without reliable public transportation, having a car is necessary for going to job interviews, commuting to work, and taking care of many of the basic necessities of life. This is why at Price Honda, we try to accommodate customers from all walks of life to make sure that they get the cars they need. This includes those who walk into our dealership and primarily speak Spanish. To experience our multi-lingual team, visit us at 4567 DuPont Highway in Dover, DE.
Inventory
Before getting into the details of our Spanish-speaking team, we want to talk about some of the other reasons you should make Price Honda your preferred dealership. First and foremost is our huge inventory. We have a massive number of Honda vehicles, but also carry models from Chevrolet, Acura, Toyota, Hyundai, and more! Whether you need a new or pre-owned model, we're more than ready to help you. But keep in mind, our inventory is always rotating and changing. To stay up to date, go to the search function on our website and start surveying everything we have available using the filters found on the left-hand side of the screen. You'll find a few vehicles that you're interested in, in no time at all!
Online Tools
We also want to direct your attention to the excellent online tools we make available to anyone who visits our website. If you're still working out how you'll pay for your new ride, you can make use of our Payment Calculator, which can give a close estimate of what your buying power will be. Or, if you're feeling eager to get in your new vehicle as soon as possible, begin filling out the Finance Application to save time at the dealership. We also have tools that will be useful to you after you've purchased your vehicle. If you go to our Service Department you'll find ways to schedule your next appointment, order parts, or ask specific questions you might have.
How Does Price Honda Accommodate Spanish-Speakers?
At Price Honda, we want to be a welcoming, helpful dealership to as wide a range of people as possible. We quickly realized that to fulfill this goal, we needed a staff made up of bi-lingual individuals who could give our customers the full attention that they deserve. When you visit us, you'll be able to learn about the vehicles we sell, and get honest advice on financing and leasing without having to deal with any kind of a language barrier, preventing miscommunication and misunderstanding. It is this attitude that earned us the 2016 Delaware Hispanics Award, which is a certificate of outstanding service and commitment to reaching out to the Hispanic community in a culturally and linguistically competent way. We are honored to have received this award and hope to continue to live up to it every year.
At Price Honda, we hope that if you need the help of bi-lingual salesman, you'll reach out to our Spanish-speaking team at Price Honda near Smyrna, DE. To see the positive feedback we've garnered from some of our past customers, we'd invite you to read some of their testimonials. We're sure we'll exceed your expectations!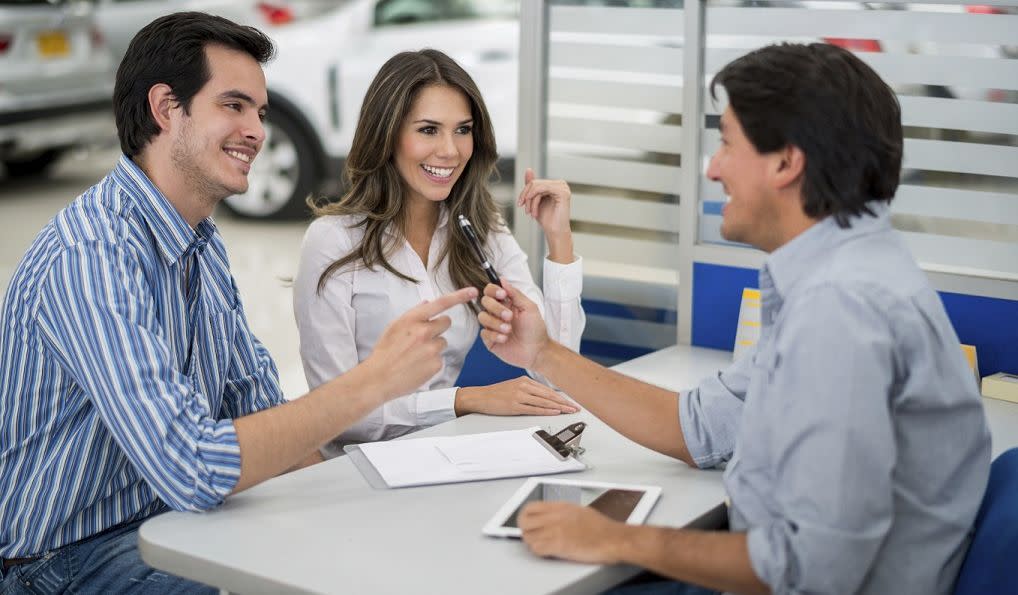 Sales Hours
302-943-6000
| | |
| --- | --- |
| Monday | Closed |
| Tuesday | 10:00 am - 6:00 pm |
| Wednesday | 11:00 am - 7:00 pm |
| Thursday | 10:00 am - 6:00 pm |
| Friday | 10:00 am - 6:00 pm |
| Saturday | 10:00 am - 5:00 pm |
| Sunday | Closed |
Testimonials
"Easy and super nice"
DEALERRATER
3-31-2020
YELP
3-24-2020
GOOGLE
3-15-2020
GOOGLE
3-15-2020
GOOGLE
3-11-2020
GOOGLE
3-5-2020
GOOGLE
3-3-2020
YELP
3-3-2020
GOOGLE
2-27-2020
GOOGLE
2-25-2020
GOOGLE
2-23-2020
GOOGLE
2-21-2020
GOOGLE
2-19-2020
GOOGLE
2-18-2020
GOOGLE
2-17-2020
YELP
2-16-2020
GOOGLE
2-15-2020
GOOGLE
2-13-2020
GOOGLE
2-13-2020
GOOGLE
2-12-2020
YELP
2-12-2020
GOOGLE
2-8-2020
GOOGLE
2-7-2020
GOOGLE
2-7-2020
GOOGLE
2-6-2020
GOOGLE
2-5-2020
YELP
2-3-2020
GOOGLE
2-2-2020
GOOGLE
2-1-2020
GOOGLE
1-29-2020
GOOGLE
1-26-2020
GOOGLE
1-26-2020
GOOGLE
1-25-2020
GOOGLE
2-7-2020
Read More